How To Use Your Humidifier Bottle With Your Philips Oxygen Concentrator
Are you in a climate where you may need a bit of additional humidity with your supplemental concentrated oxygen? A humidifier bottle can help you get the extra moisture you desire, and you'll discover exactly how you can use it here in this article and video.
In several of the locations we service it's typical to get a bubble humidifier with your concentrator.
Using it right will provide you that ideal level of extra moisture you want with your concentrated oxygen.
What Kind Of Water Should You Use In Your Bubbler?
You'll want to make sure the water you use is distilled. Distilled water is easy to get and it's the best for using with your concentrator because it contains no impurities.
How much water should you put in your bubble humidifier ?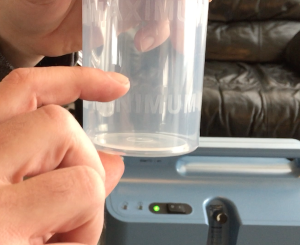 There will typically be obvious lines labeled minimum and maximum on your bottle. For the majority of people, filling the bottle a about a third of the way, or a little bit over the minimum level is ideal. This adds moisture to your oxygen treatment without creating too much humidity.
After you've put in the right amount of water you'll want to strap your humidifier bottle securely to the EverFlo concentrator using the velcro strap.
Make sure the lid and the knob on top of the concentrator where the tubing comes out of are on snugly. You don't need to make them tight, only snug.
While you are operating your concentrator without the bubbler your nasal cannula will be connected directly to the oxygen outlet port near the upper left side of your EverFlo oxygen concentrator.
When you are using the bubbler, the tubing coming out of the top of the bottle will connect right to the oxygen outlet port on the concentrator, and you'll connect your cannula tube to the outlet on the side of the lid of your humidifier bottle.
Be sure the tubing extending from the humidifier bottle to the concentrator is not restricted or bent so you get a good flow through the tubing.
Turn your oxygen concentrator on once everything is properly connected. If you did it the right way the water will be bubbling. If it's not, make certain your hoses are secure and snug up the lid and knob on top of the bottle again.
Now you'll be getting the added humidity you need to keep your nose from drying out from the extra air flow the concentrator is delivering to you.
If anything is unclear, make sure to watch or re watch the video. If you still have questions, call us and we'll trouble shoot the issue with you.
Cities We Service:
Telluride Ouray Durango Montrose Aspen Basalt Gunnison Crested Butte Steamboat Vail Frisco Beaver Creek Keystone Breckenridge
Communities We Service: