Rent Portable O2 Concentrators For Oxygen Supplementation During Activity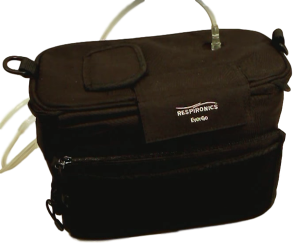 When you want the freedom to get out and about while getting the oxygen you need, Oxygen Assistant can help with a portable oxygen concentrator rental. Portable concentrators are light weight and compact so they won't slow you down.
Read on below if you want to know more about portable oxygen concentrators; Or call us now at at one of the locations we serve if you are ready to schedule your concentrator rental.
Pulse Dose Versus Continuous Flow Portable Concentrators
To decide which concentrator is best for you it's helpful to know a little about pulse dose vs continuous flow.
Concentrators that are triggered to release oxygen upon inhalation are called pulse dose. Oxygen machines that deliver oxygen at a steady flow regardless of whether you are breathing in or out are continuous flow machines.
An important point to make is you can use your portable oxygen concentrator while it's charging. For example you can plug it in at your home or other accommodations while using it; or charge it in the car while you're driving around.
Other Considerations Regarding Pulse Dose & Continuous Flow Concentrators
The main advantage of a pulse dose setting on your oxygen concentrator is your batteries will last about 8 times as long. Pulse dose concentrators also weigh much less making them easier to carry around.
Many pulse dose concentrators weigh under 10 pounds and continuous flow models can weigh more than 17 pounds.
Continuous flow or pulse dose can produce and endless supply of oxygen, but continuous flow will make it necessary to recharge your battery much sooner.
Continuos flow machines provide a higher dose of oxygen than pulse dose machines. If you need 3 liters of oxygen per minute or more, a continuous flow is going to be the right choice for you.
One more thing to consider is that pulse dose machines don't work with CPAP, so you'll need a continuous flow portable concentrator or a stationary concentrator to use with your CPAP machine.
The following is a list of some of the portable oxygen concentrators you may be familiar with:
the SeQual Eclipse 5
AirSep Focus
Invacare XPO2
The Respironics SimplyGo
The Inogen One G2
EverGo is what we have in the most abundant supply, but let us know if you desire a different machine and we'll see if we have one available.
If you're looking for a continuous flow machine we recommend you try one of our stationary concentrators. Most of our portable concentrators are pulse dose machines which provide plenty of oxygen for most of our users on the go.
We hope Oxygen Assistant can become your oxygen concentrator rental service of choice. Call us Now to reserve your portable oxygen concentrator at our location closest to you.
Other Services We Provide:
Stationary Oxygen Concentrator Rental & Delivery
Oxygen For Altitude Sickness Treatment & Prevention
Telluride Ouray Durango Montrose Aspen Basalt Gunnison Crested Butte Steamboat Vail Frisco Beaver Creek Keystone Breckenridge
Communities We Service: